Ugh, I am SO exhausted right now! Unfortunately this post has absolutely NOTHING to do with fashion, just a basic narrative of, "I am not dead...this it what I've been doing..." post...
So if you'd rather not hear about my life...erm...stop reading here!
I had my mock trial competition this morning where I was a witnes...we would have made the final regional match, but even though my side (our prosecution team) did great....out defense got SLAUGHTERED! Then at 7:00 I was in Coffeehouse (which is sorta like a talent show-ish only cooler thing)...and had a BLAST MCing (although we didn't end up being secret agents...we sorta...well I'll show you guys later once I get video from a friend of mine...haha, we got to tie people up=])
Also, I am MADDDDDDDDDDDDDDDDDDDDDDDD because I don't know if I got video of the last half of the show. and that's the best part...
Ok, I lied...tiny tidbit of fashion:
I am in LOOOOOOOOOOOOVE with the new Louis Vuitton collection with Stephen Sprouse! I have never in my life really liked anything by them, but this...just WHOA!
I just tried to find pictures of the collection I'm talking about, but ULITIMATE FAILURE!
I couldn't find them anywhere...if someone could help me out that would be fab!
Also I've been tagged for an award! =] My first, from
Fashlynable
!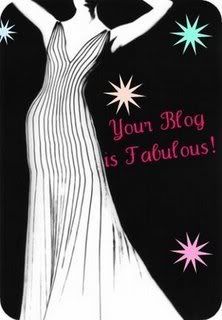 The Rulies:
1. Put the logo on your blog or post.
2. Nominate at least 10 blogs which you think are fabulous.
3. Be sure to link to your nominees within your post.
4. Let them know that they have received this award by commenting on their blog.
5. Share the love and link to this post and to the person from whom you received your award.

I nominate:
Ambiguous Alliterative Abomination
urban tease
Little Carlita
Unrealistically Lily
Fashion Flocks
The Clothes Horse
Hipster Musings
cheetos are orange
The Fashion Prescription
giggleness
in-tree-gue
Emy Augustus
Alice In Wonderland
That's 13 people! I would actually love to tag several other lovelies...but I'm too tired to think/type them all right now! And I probably won't even let most of these peoples know til tomorrow.